The divine taste of holidays…
After nearly a month of non stop activity, we are in a midst of holidays. It's kind of astounding how 2 holidays can run as fast as it does. I had a lot of "2 dos" in mind for the two days, but I haven't done a single thing. After having a blissful 9 hour sleep (so long!) yesterday, we went for a trek to a tabletop hill in the afternoon. We started at 3.00 pm and took our bikes some half an hour from our institute in a God forsaken dusty, rocky road. It sure was a test of our driving abilities and our bikes. We parked our bikes in a quarry near a hill, and took to the trek. After a 3 km walk from the quarry through bushes, fields with fiery looking bulls, helpful men and women, ups and downs, we reached the bottom of the table top hill.
The table top must have been anywhere between 500 feet to 1000 feet high. There were signs of pathways leading to the top, and despite the imposing looking altitude and elevation, we took the challenge because the other moderately-steep route would've made us walk 1 more Km. After about 30 minutes of climb, we reached the top. The view was breathtaking. Miles and miles of clear landscape were visible, and the look was amazing – the rectangular different-shaded green patches of land as we see in the high altitude videos in TV. There was a small temple made mostly of stones, a small fort-like ancient building and a small pond right on top of the hill. It was surely a trek that was worth all the pain. The only bad thing was that our camera ran out of power after 6/7 snaps and all we managed was some photos as we were driving.
The table-top hill as seen from our institute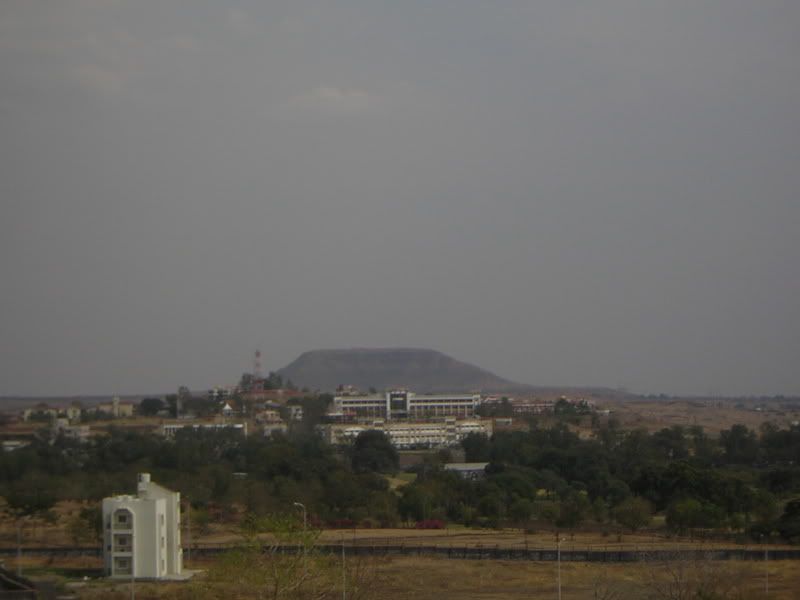 As we start from the campus…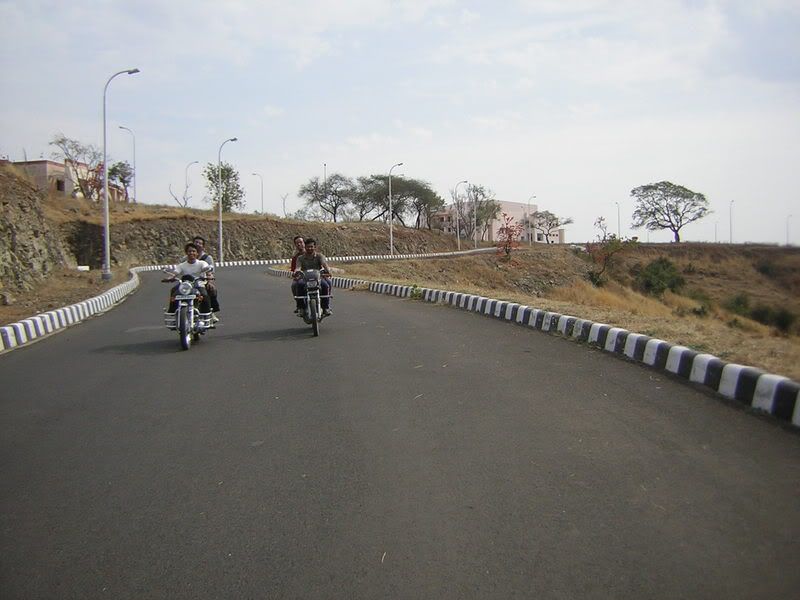 The dusty road leading to the table-top hill (in the background)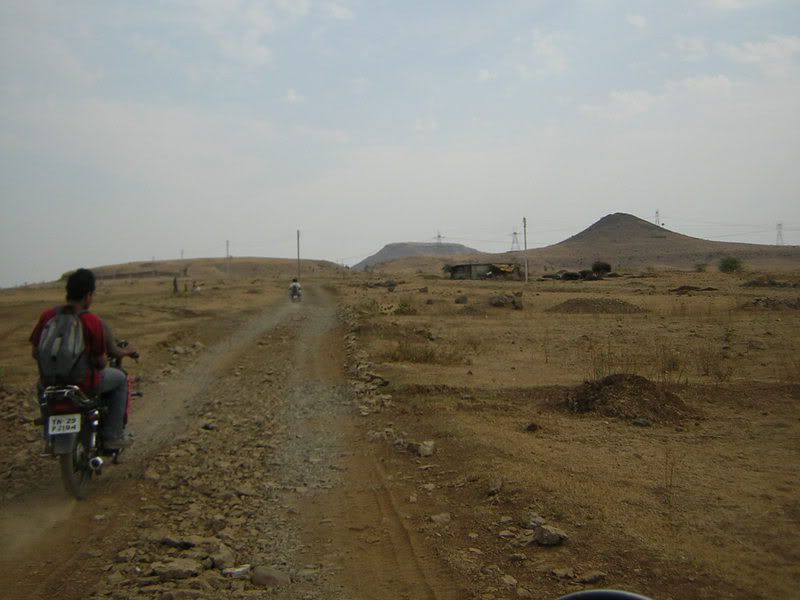 I felt really tired on return, only to be told that a Section A vs. Section B Counter-Strike was on the line. This match was long pending and no one was interested in postponing it any further since this was the first consecutive holidays we ever had in our PGP lives. Section B, the other section, had won the previous match and we simply had to win to straighten out things. The teams were equally poised with some of the finest players interspersed. But in the end, we won with a considerable margin. It's really surprising to see the flaring tempers and the level of passion involved in this game. Groups of people took their Wireless-enabled laptops to common rooms to make the most out of technology to strategize and guide each other. It was 5.00 am in the night when we hit the sack.
Here's the winning Section A Counter-Strikers.
From Left to Right Name[CS nick]-
Top
:
Maderna
[Sabka baap],
Venkat
[S.A.W], Yours truly [Spetnaz]
Middle
: Ranjith [The Don], Duseja [Sikander], Kapur [Juggernaut], Rishav [Killer], Arya [O.B. Laden]
Bottom
: Kindra [Defribilator], Maiti [Aragorn] and Anubhav Nayyar [The Eye]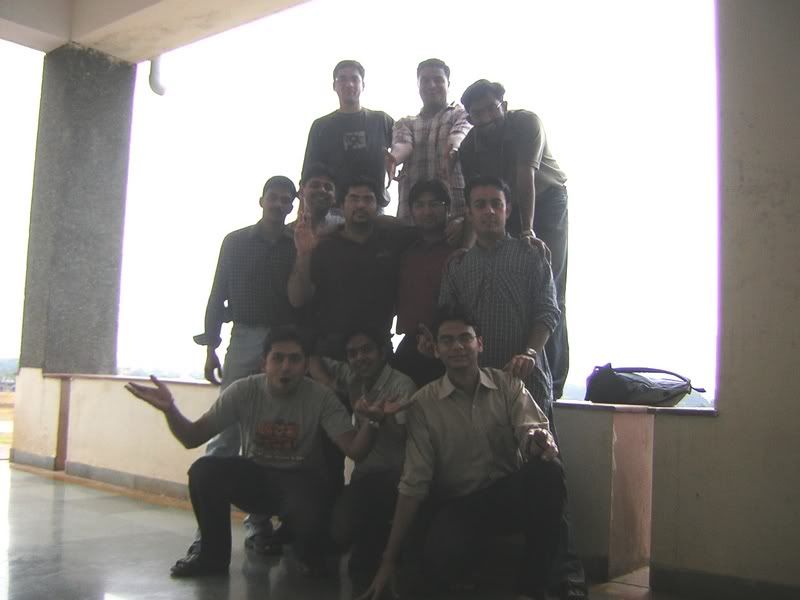 Today was more of doing nothing worthwhile types. Lot of work beckons, but I just can't come to terms with the time that moves this fast!