Janmastami vibes
Although I'm late in recording this, I just can't ignore this event. Thanks to our cultural committee, we had a totally unexpected fun-filled Janmastami celebration here.
A couple of mails before the event mentioned what our CulCom had in store, but I brushed off the mails after a cursory glance expecting nothing more than a prayer and snacks session. But what turned out was very surprising.
We finished the prayer prompty at 12 midnight, had the usual 'aarti', then the snacks etc. Then I - without any sort of expectation - followed the crowd, and was astonished to see the 'mukti-phod' there. Since its a new word to me, I'll explain what it is: the formation of human pyramid to break the color-water-filled-pot handing far above in the air.
Here's the image I got from
Chandoo
...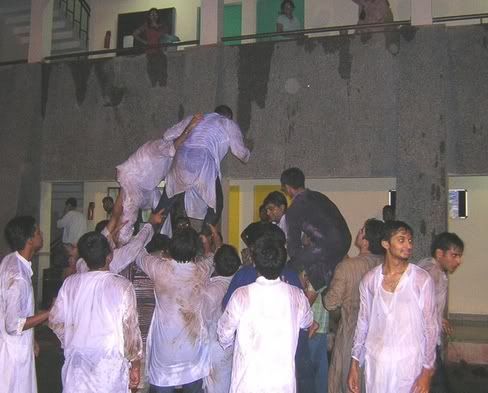 Being from deep down south, I've seen this only in movies but for last year when I witnessed it when I was in Bangalore. But such an event at an IIM, of all places? It was awesome fun... the usual make and break of pyramids, the accompanying commotion, the hullaballoo, pouring water as they climbed ... a sight to relish, and remember.
Ignore this: Vying for "The best Indian Business School Blog" . How to really become the best among the Indian Business School blogs when there are thousands of blogs from Indian Business school students, each vying to the best?